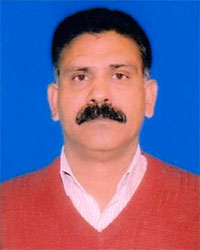 Principal (Sh. Vivek Mahajan)
Government Polytechnic College Reasi was established in the year 2012 under the scheme "Sub-mission on Polytechnics" in which Government of India sanctioned 18 Polytechnics for each uncovered district of J&K. The Scheme has been launched to meet the technical manpower requirements of the country in 2020.
The Polytechnic College is situated at Mari, Reasi, Near Government Degree College, Reasi. It is at a distance of 2.5 kilometres from Main Bus Stand Reasi. The holy town of Katra, with railway station, is about 25 kilometres away from the Institution. The Institution has a newly constructed and well equipped Administrative Block, Academic Block and Workshop Block.
At present the Polytechnic offers the following 3-year Diploma Courses with Intake capacity of 60 students in each course. All the courses are approved by the All India Council for Technical Education (AICTE) and affiliated to J&K State Board of Technical Education (JKSBOTE).
Electrical Engineering
Computer Engineering
Since its establishment, the Institute has significantly improved its functioning and modes of delivery. At present industry oriented curricula at semester pattern are being implemented in all the existing courses. It has considerably improved placement of pass out students. All the faculty and staff members have been trained / retrained in latest technologies in various fields of Engineering and Technology. All the labs have been modernized by procuring state of art equipment. Library has been strengthened by procuring adequate number of books. Lots of learning resources have been procured, which facilitate in teaching learning process. The institute has Internet facility and all other state of art facilities.